Merry Christmas! BIG trade news for the Upstate in these final days of 2019:
1) Less than 24 hours after the impeachment vote, the USMCA passed the House of Representatives by an overwhelming bi-partisan margin (385-41). The Senate is expected to approve it in early in 2020.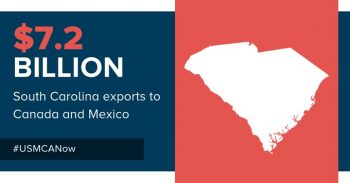 Background for USMCA & South Carolina:
According to the U.S. International Trade Commission, USMCA will add 176,000 new jobs to the workforce and will provide over $68 billion in new economic growth
Canada and Mexico purchase nearly one-fifth of South Carolina's total global manufacturing exports
South Carolina's small- and medium-sized businesses comprise 63% of the state's exporters of metals to Canada and Mexico
More than 14,000 of South Carolina's manufacturing jobs depend on manufacturing exports to Canada and Mexico
South Carolina agricultural exports to Canada total $126 million and $21 million to Mexico.
2) A seven-year extension of the Export-Import Bank was approved by the Senate and signed by President Trump. This is the longest reauthorization in the Bank's history, and gives Upstate exporters certainty heading into the next decade. Other than the extension, the bill includes:
A "quorum fix." The bank was unable to extend loans or guarantees in excess of $10 million due to the absence of a quorum of Senate-confirmed directors on its board between July 2015 and May 2019. The reauthorized charter addresses this quorum issue by establishing a temporary board in the absence of a sufficient number of Senate-confirmed members.
The legislation sets a goal of reserving 20% of its authority to support U.S. exports that compete directly with exports from China and certain innovative technology exports, such as artificial intelligence and 5G technology.
Another provision would require Ex-Im to increase its support for small business exports from 25% of its overall portfolio to 30% and will require it to reserve 5% of its loans to support renewable energy, energy efficiency, and energy storage. Meeting the expanded goal for small business support, however, is not mandatory in the same manner as the original 25% mandate.
While frequently derided as the "Boeing Bank" (and Boeing does, no doubt, use the bank to the benefit of Upstate suppliers), of the 25 users in the Upstate, 20 are small businesses or minority- or women-owned businesses. Ex-Im powers billions of dollars of exports for our state and thousands of jobs. We're happy to see Ex-Im get its lifeline and excited that we can take this off our agenda for the first time in six years,
It's great to take both of these off the agenda for 2020. Thank you to our friends at the US Chamber of Commerce for their work on these issues. Thank you to our delegation for nearly unanimous support on both bills.
Great way to end our 2019 Advocacy program! Thank you all for your advocacy this year. We hope you have a Merry Christmas, Happy Hanukkah, and a Happy New Year!