Educating and Informing Tomorrow's Political Leaders
The Upstate Political Leadership Institute educates business leaders on the basics of running for office. While a lot of politicians talk about "bringing business ideas" to government, running a campaign is distinctly different from running a traditional business. It's a unique proposition that includes raising capital like a startup, building an organization run mostly by volunteers who believe in you like a social nonprofit, and selling yourself and your ideas to a specific audience like a motivational speaker.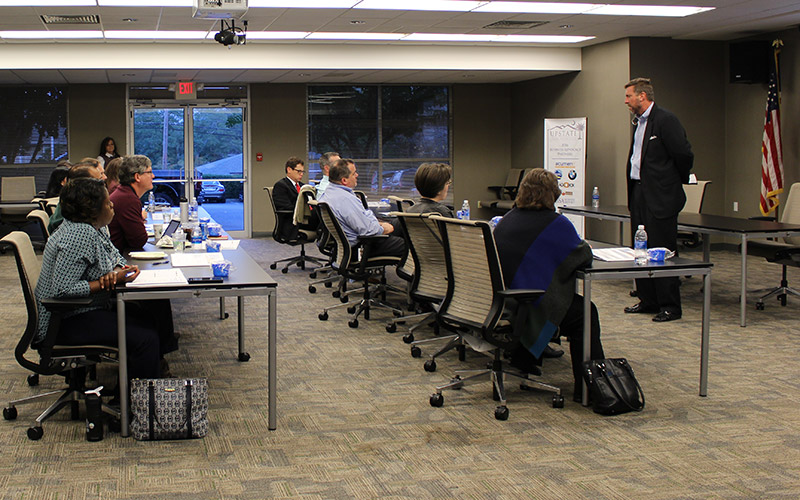 Nonpartisan Learning
Our nonpartisan program teaches various subjects about running for office, including fundraising, grassroots strategies, media relations, and ethics. We offer Political Leadership 101 classes at various points throughout the year at different Chambers in the coalition, as well as an all-day Upstate Political Leadership 201 class to give potential candidates a deep dive into the world of campaigning.
Chambers currently participating in the Upstate Political Leadership Institute are the Greenville Chamber, Spartanburg Chamber, and Greenwood Area Chamber.
Get Started
For more information about the program and how to apply, contact:
Jason Zacher
Executive Director, Upstate Chamber Coalition
(864) 239-3718
[email protected]
Whether you are interested in pursuing elected office, donating your time to a campaign, or simply wanting a Local/Statewide Politics 101, the Upstate Political Leadership Institute is worth the investment. The program is well-structured and includes a binder with resources; not to mention the excellent speakers, presentations and panelists who contribute their time and experiences to attendees. Tough questions were asked and honest answers were given. It is the environment to get real exposure to the systems and the people who 'make it happen' in the Greenville and South Carolina political landscape.

The Institute was a great experience for me. It provided a genuine chance to hear from and engage with people currently serving in various levels of public service in South Carolina. The information I got through the presentations and forums was invaluable as I continue to make the decision whether or not to run for office. I signed up for the Political Leadership Institute because I love serving my community. It showed me how realistic it is to make a difference by communicating with your state and local representatives. I would definitely recommend the program.